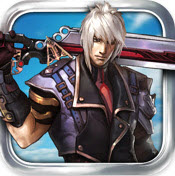 In Eternal Legacy you play as the character Astrian, who is a rebel fighting against an oppressive government while also searching for his lost father. To me the storyline is pretty good, and it does seem to fit this kind of game quite well but is the game good too, just like the story? Continue reading to find out.
Eternal Legacy has it's good side and it's bad side, but it has more good than bad. It's good some great visual graphics, the progression of your character such as a lot of customization features and that big slice of RPG. Then comes the bad part, the game drifts off into a boring and repetitive
When you first play this game you'll be impressed with the graphics for sure. It's a big world your able to roam free in, battling creatures, finding chests with some goodies inside. Each world is totally different, so your not stuck in the same world for too long, therefore it won't be boring you. The character details is good, you can be right close and they'll look just as good as they do from a distance.
Then there are the controls, another fantastic part about the game. Each button, and menu has been put there perfectly, easy to understand and use, in the past we've come across some good games, with horrible controls but Eternal Legacy really nails them. Everything from running around, opening chests to fighting wolves or floating swords. One of the great things while battling is being able to plan three moves ahead, therefore the battle will be flowing, instead of breaks when you' re trying to pick what move you use next.
Character customization is another hit for Eternal Legacy, as you do find is most RPG games. Unfortunately AI customization for your friends isn't as good, just look at Lysty, she has a super short skirt, but that isn't a big worry.
Now we move into the bad side of Eternal Legacy. Straight away you'll notice some bad voice acting, which for some gamers can put you off as they may not want to listen to boring conversations with no emphasis at all. I guess as you go through the game you will get used to it, or you could just turn the volume down, and read from the subtitles.
Battling. One of the major features of Eternal Legacy, but yet one of the worst features. While roaming around in the open worlds are enemies, and if you get too close to them will run (or float, depending on what they are) at you, and then you will engage in battle. That's all good and everything but when you running around a world with a whole lot of these around you, and your fighting one every 2 minutes it will get to a point you will probably try and avoid them. Yes, leveling up is fun, getting new equipment and powers is too, but when your fighting the same enemies, doing the same thing over and over it can get a little boring. The time you spend fighting, is probably twice the time you're actually running around and trying to complete the story. The game is also very easy, you may stumble on a few boss battles, but other than that you'll be drifting through most of your battles.
Eternal Legacy may look like the perfect RPG, with the great graphics, awesome customization options, a long campaign, and a good story to play along with, but when it comes down to it, one of  Eternal Legacy's main features has its let downs. Battles get boring and repetitive, battles are very easy to win, and the voice acting is below good. Even though Eternal Legacy has it's bad side, it really is a good stab at the Final Fantasy games.