Giant Moto by Rocket 5 Project has officially landed onto the App Store as a modern day re-imagining of Excitebike, for the iPhone and iPod Touch. For $0.99 will it satisfy your Excitebike craving or leave you starving for more? Find out now in our in-depth review.
Noteworthy features:
6 well designed levels (with more promised in future updates)
4 Riders to choose from
2 Modes: Solo & Versus to play
I really loved Excitebike when I was a kid. I spent many countless hours avoiding all the mud slicks, boosting (sometimes overheating), launching over a barrage of ramps perfectly (or trying too) and crashing any opponent that dare to challenge me. Needless to say, when I discovered that an indie developer Rocket 5 Project was putting together an iPhone and iPod Touch game called Giant Moto, with the goal to bring the old school Excitebike gameplay to the App Store for the first time, I was definitely interested or shall I say excited. Now that Giant Moto is finally out for a mere $o.99,  I can easily recommend this to anyone looking for a quick motocross racing fix, but a few notable omissions prevent an otherwise awesome game from reaching a truly "must have" status.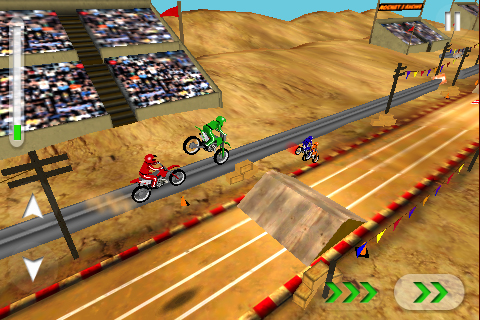 "I'm going to make this, I'm going to make it..AHHHHHH"
Gameplay 8/10
Make no mistake about it, Giant Moto is bringing back the old school Excitebike gameplay, for better or for worse. All of the core elements are in place; the well designed tracks, weight transfer and boost management, barrages of ramps, annoying mud slicks, and the red & white arrows are all present and accounted for. The only omission of note, is the ability to crash your opponents. While this didn't completely ruin the novelty for me, it was rather disappointing to say the least. Hey what can I say; I like to crash my opponents "insert evil laugh here". If you can excuse this absence, then Giant Moto will still feel like a very nostalgic Excitebike like experience, for the iPhone and iPod Touch (no iPad specific love just yet).
For those of you who haven't played Excitebike, as far as racing games go, it's pretty simple and straightforward. In Giant Moto, you race down a track on a red, blue, orange or green motor-bike in 2.5D side-scrolling fashion; by yourself or up against 4 AI opponents. The first one to cross the finish line wins. This is true old school, as there is no power-ups, no tricks, and no special abilities of any kind. It's all about the racing. Since this is a motor-cross racing game, each track has an assortment of ramps, ranging from small to huge, some in pairs and others having a repeating pattern. In addition, there is also obstacles to watch out for like mud-slicks (that slow you down) and boxes placed on either the top or bottom side of the track. You will also notice red and white arrows littered across the tack as you race down it. These arrows will give you a small boost if you run over them (very important to hit as many as you can during each race).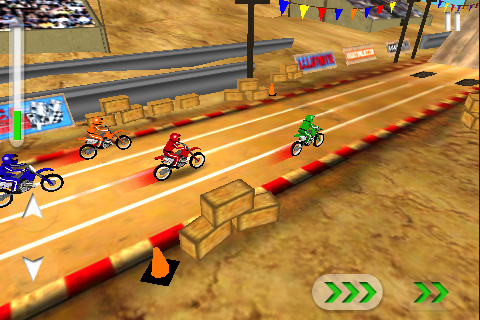 Green was always my favorite color.
Conquering the AI on hard difficulty takes skill and memorization. Mastering the tracks will require a wise use of the boost (moderate acceleration, but has a limit) and acceleration (minor speed no limit) when waiting for the boost meter to cool, as well as near perfect management of weight transfer (wheelies to nose dives) in order to minimize speed lost when having to hit the big ramps. It's actually very simple to pick up and understand but takes experience to master and as such the gameplay can be very addictive, especially for Excitebike fans, as there is a bit of a "nostalgic vibe" going for it as well.
*
Graphics  6/10
I found the graphics of Gaint Moto to feel sharp and render smoothly without noticing any drops in frame-rate. Some of the textures are a bit bland upon close inspection, but overall the tracks are well designed and the animations are great. I couldn't help but to feel mostly satisfied with the graphics when playing the game, but I would have like to have seen some more detailed textures, maybe some more creative scenery, possibly even some weather effects with some shading from clouds and what not. Even so, as is the graphics are more then capable of drawing an enjoyable racing experience.
On second thought blue was always my favorite color.
Controls 6/10
It's all about simplicity here, the controls are designed to get the job done and for the most part work well for a game of this type.
There's a virtual d-pad on the bottom-left (up & down arrow) that is used to change lanes and two on-screen buttons on the bottom-right of the screen that are used to control acceleration. The accelerometer (tilt) is used to manage the weight transfer; like to do wheelies (tilt device to the left) or nose dive (tilt device to the right).
The on-screen button with two green arrows on the far bottom-right controls the gas (minor acceleration), and the on-screen button with three green arrows controls the boost (moderate acceleration). On the top right, there is a pause button, tap on it to pause the game (duh) and pull up an in-game menu with three options; continue, restart, and exit to menu. On the top-left there is the all important boost meter. When using the boost (the three green arrow button) a red boost effect will appear behind the rear tire of your racer and the boost meter will begin to fill up. If it gets full the bike will overheat and explode. All in all I felt satisfied with the controls. The only caveat is that there is no option to adjust the tilt sensitivity and since my 3GS's accelerometer is generally "glitchy" it made it somewhat hard for me to control spurious wheelies and nose dives unless i really jerked the phone back and forth.
Sound 6/10
The sound is adequate. The motor engine sounds feel right, the menu sound effects and the music set the tone very well. The only issue is that there is no in-game soundtrack, which doesn't ruin the experience it just makes it feel a bit empty and lacking energy and personality of a soundtrack that motocross games are generally know for.
The menus are simple and straightforward. On the main-menu you choose one of the 6 tracks included, the biker you want to race with, what mode, either solo or versus and if you pick versus, what difficulty level. Its all very simple and intuitive, but nothing to really brag about.
As far as re-playability goes, this game is sub-par. It lacks features like achievements, leader-boards, multi-player or any social layer integration to keep players busy once they get a firm grasp of the gameplay. There is challenging AI and arcade-style high-scores, and the developer is promising to release more tracks in future updates but as is and with only 6 tracks the game
isn't going to win any awards for re-playability.
The $0.99 price point is perfect for an arcade-style game like this.
In all honesty this game has much potential and it will be interesting to see how it evolves as new updates roll out. If you can excuse the absence of crashing your opponents then Giant Moto will temporarily satisfy your craving for an Excitebike like experience, but mostly leave you wanting for more by the time you finish the 6 included tracks. If you cant excuse this absence, then this is a game you should probably hold out on.