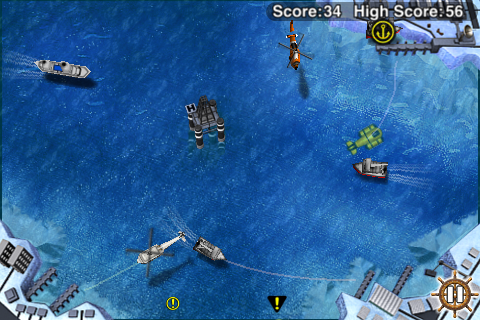 Backflip Studios, purveyors of such ridiculously addictive titles as Ragdoll Blaster and Paper Toss, make a welcome return to the AppStore with Harbor Havoc, a game which puts a 3D twist on the ever expanding line drawing genre. Best described as Flight Control meets Harbour Master, this brilliant game will undoubtedly make some waves of its own thanks to a pick-up-and-play quality coupled with gorgeous graphics and ingenious gameplay mechanics.
The object of the game is deceptively simple- your job is to route boats, submarines and helicopters to their respective ports without running into other vehicles of the same kind. However difficulty levels soon rise as you struggle to map out viable paths for vessels, without them colliding, whilst bearing in mind whose lines can cross (e.g. choppers and subs and so forth). And herein lies the game's brilliance- it adds a much needed level of complexity and depth to a genre that was arguably in danger of becoming stale.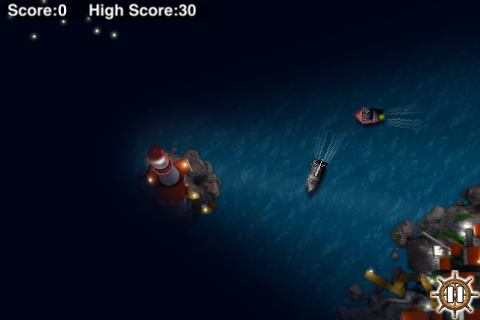 Controls are well implemented- draw lines with your finger, drop anchor by tapping a vehicle- and are easily grasped and work perfectly. Graphics are beautiful, particularly the vibrant greens and blues of sea lapping against the lovingly rendered vehicle models and stunning explosions prior to Game Overs. Sea-gulls scream and horns blast in accompaniment to the games theme tune, further immersing the player in the marine based mayhem. There are numerous levels on offer, with an added option of submitting high-scores to the increasingly popular plus+ network, all these positives helping Harbor Havoc feel like like a well polished and deep affair.
Overall, these talented developers have matched the all important just-one-more-go addictivness of their previous titles and just might sink the line drawing competitors with a fresh take and new perspective on the crowded genre. However Harbor Havoc does lose a point for Backflip's (uncommon) lack of originality this time around, and could potentially drown in the sea of similar titles already on the AppStore. That said, if you've yet to pick up any of these games, then add a point to the score, and buy with confidence. Or if you're already a fan, this Harbor Master/Flight Control hybrid could offer the challenge you've been seeking.
Score: 8 out of 10